The MidWest Critter Nation Animal Habitat
 has been a favorite among pet rat owners for years; and I'm here to share my own personal experience with it.
To begin, I will tell you that I give this rat cage a 4.3 out of 5 Paws.
There is only one major flaw to it, but I will tell you how to work around it in order to make this rat cage work for you. Other than this one flaw, this cage has served its purpose just like I expected it to! I want to ensure all rat owners know what they are getting into, just so that they are fully prepared to bring this amazing, mammoth sized cage into their home.
Hurdle #1: Ordering the Midwest Critter Nation and Shipping!
First of all, ordering the cage was super easy. I bought mine from Amazon and spent a total of $218. Not so bad; especially since the single unit will probably run you $140-$160 including shipping. So for dishing out the extra $60, I snagged a good deal. The cage was actually only $173, but the shipping charges were outrageous. However, completely understandable since this cage weighs in at a whopping 111 lbs! Yes, it's VERY heavy and very awkward when it arrives. Getting it into the home will require a bit of muscle on your part. Now, the cage has jumped a bit in price with the new year upon us. It is possible that the price will drop lower again, then again, the manufacturer could have greatly increased the price due to the costs of production and the increasing demand for these top notch ratty mansions.
Assembly: Prepare Yourself with Some Help! And… Possibly a Margarita, or Four.
I won't lie. Putting this cage together was the biggest pain in my *** for the year 2014. Not even playing around. This cage was not only slightly confusing to put together, but things needed to be hammered at. During this process, I required the screwdriver and screw assembly that came with the cage, a hammer, a cowboy boot, a human helper, and a very strong drink. You and your cage assembling partner WILL become aggravated. And you might begin to have some little quarrels while putting it together. The drink helps to "enhance the calm". Sorry, that's just a phrase I love to use!




Anyways, the boot served as a hammer up until I needed to get into tight spaces. The panels are tricky when trying to align them in the holes and fasten them together. The panels aren't exactly light or small, making it an awkward, clumsy task. The instructions will confuse you at first. And for THE LOVE OF EVERYTHING HOLY, separate the different panels and pieces and become familiar with them before assembly! You want this process to be as smooth as possible, I promise that!
Some of My Favorite Features of the Double Unit CN Cage: Full Double Doors, Great Locking Mechanism, Ease of Mobility & Wheels, Durable Steel, Small Bar Spacing, Built In Shelf, and More!
There are so many awesome features that come with this cage, and I'm sure you'll love them just as much as I do. I'm going to give a full breakdown of all of the things I love about it. If you have more features you would like to add or ask about, you can always leave us a comment and tell us what you think. This is one of the best cages for rats, hands down!
Easy Open Double Doors with Great Locking Knobs
In order to open the Critter Nation, you have to squeeze together the two knobs on each door. They open and lock in a similar fashion to a dog or cat kennel, but are much more easy to squeeze. You can do it easily with one hand. Using both hands, you can easily open 1 full unit completely, as the doors span the entire front of the unit. No more maneuvering around levels and cage walls to try and get your rats out of the cage! LOVE IT!
Easily Mobilized with Four Locking Wheels
The wheels on the cage can be locked in place, or unlocked to roll the cage around the room or house. It takes very little effort to wheel the cage around; which is VERY important in a cage as large, bulky, and heavy as this one.
Durable Steel Cage that Will Last for Years and Years
If you have ever seen, used, or considered a double critter nation unit, then you know that they are built to last for a long time. The durable steel, as long as it is taken care of, will last you and your rats for years. It is a quality made cage that is well worth the investment, versus other cages that are made of plastic. Its unrivaled size is absolutely incredible, comfortably fitting 10 rats easily. With so much space to run and play, as well as tons of open air to hang playgrounds, jungle gyms, hammocks, and fabric tunnels, your rats will be completely ecstatic. You really cannot beat the fine craftsmanship that went into this cage. Even if you decide in 5 years that you no longer want the cage, or that you just don't have the spare room anymore (such as when your rats pass away, and the rat room is going to be turned into a nursery or spare bedroom), you can easily sell this cage for $100 as it is in very high demand.
The DCN's Small Bar Spacing for Little Bitty Rats
The coolest thing about this massive cage is the small bar spacing that it has. You could house 4 week old rats in this cage, and they will not be able to squeeze out of the bars. It is a cage that is designed with all sizes of small pets in mind. It could be used for mice, it could be used for ferrets; the possibilities are endless! You could even house some small robo hamsters or syrian hamsters in it! Should I ever decide to pull out of the rat game for a while, I could still keep my midwest rat cage and use it for other pets.




Built In Shelf at the Bottom of the Double Unit Critter Nation: Great Storage for Rat Food, Supplies, Medicines, Toys, and Houses!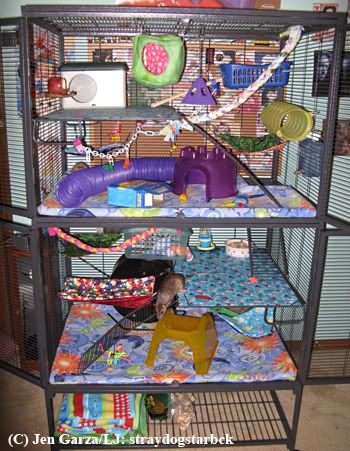 The shelf at the bottom of the cage has bar spacing that is a bit wider, so you might need to use a small tray or towel over it to keep small items from falling through (it's about 3/4 in to 1 in wide). However, you can store anything and everything underneath the critter nation cage, even clean fleece for cage changes and cage cleaning solutions, or bedding supplies! This is definitely a neat, organization friendly feature of the DCN that will help those of us who are completely OCD about organizing our ratty stuff neatly and compactly! Rats require lots of stuff, from the bedding materials to food, extra water bottles, toys, cleaning cloths, medicines, antiseptics, treats, and supplements. This keeps you from having to buy a storage caddy or plastic drawers.
Ease of Cleaning the DCN Rat Cage
This cage is amazingly easy to clean, believe it or not! The double doors enable you to reach every single inch of the critter nation cage. The durable plastic shelves slide in and out, making it easy to clean underneath them in case of spills or drips. You can take the trays to your bathtub or outside to wash them, and they dry off very quickly. I use a special cage cleaning spray for my pans, eliminating the need to wash them with water other than once every two months. There are many different kinds of sprays out there that will not only disinfect your rat cage, but deodorize it as well.
Since this cage is so wide open and large, cleaning is an absolute breeze. This is highly important to me with the many rats that I have; they sure know how to make a real mess of their cage, but that's okay! They have a lot of fun doing it! Things seem to have a hard time caking to it, giving it an A+++ in my book. With all of the sticky smooshy foods my rats get as treats, the last thing I want is for the food to become glued to the pan in a way that it takes forever to get it off.
What Do Rats Think of the Huge, Double Unit Midwest Rat Cage?
While rats may not have the words to express their feelings regarding this cage, their sign language gives us a clear idea of just what they think about it! My rats LOVE this cage, and many other owners will agree. My rats don't even gnaw on the bars of the DCN; unlike smaller cages. This means that the rats are not bored or cramped. They have plenty of space to explore and play, as well as a large open air area for things like tunnels, hammocks, and ropes to hang. This spells out H-E-A-V-E-N for our cute little ratties!
IF you decide against hanging things in the cage, you could instead add a third level in each unit. There is more than enough space for this, and it gives the rats a little more floor space. This will increase your cleaning time, but it's still a great idea. It allows for an extra feeding dish, cuddly little igloo or other house/hut, and you could add a third ramp to it as well so that they can access the third level easily.
Are There Special Customizations Available for the Midwest Double Unit Critter Nation for Rats?
As a matter of fact, there are some additional pieces and accessory kits that can be bought for the DCN. Depending on what you intend to do with your cage, and how many rats you have, you may be interested in some of the other items offered. I've not invested in any of these items personally, so I don't have any experience with them currently. They are all available on Amazon, however. This means that you could access the customer reviews that they have on these add-ons in case you have an interest in them.
Fabric/Fleece Accessory Set for Double Critter Nation Pans: If you want something soft, warm, and cozy for your pet rats to use as a flooring cover, then try out the fabric accessory kit. You could ALSO buy your own fleece and cover the pans with that rather than buy these. Many rat owners opt for fleece instead of traditional bedding anyways, as it seems to be easier to clean and cheaper for them.
Extra or Replacement Ramps: There are additional ramps available, the same ones that come from the manufacturer with the cage. If you lose a ramp, build a third level, or one simply becomes damaged, you could replace it easily. I loveeee that you can buy extra ramps, because when your rats become old the ramps are absolutely necessary (younger rats seem to climb the side of the cage rather than use the ramps. Rat logic….)
Double Critter Nation Scatter Guards: If

Scatter guards for the midwest double unit critter nation are important if you are using bedding for your pet rats. It'll make a real mess!

you are using bedding (or if your rats poop an absurd amount), you may want to look into some scatter guards. Trust me- you DO NOT want to use bedding in this cage without them!!! Your floor will look like it has snowed dirty bedding; most of it will be outside of the cage within 2 hours. Most would say within fifteen minutes. It's an absolute NIGHTMARE!

Ferret Nation Accessory Kit: This kit is pretty awesome, as it has all of the fabric hanging accessories that you could want, as well as floor pieces. It has a hanging cube house, a hanging hammock, a cute tunnel for the rats to run through, and an adorable floor pouch for them to run through, complete with little tunnel doors. If my rats wouldn't eat the tar out of fabric toys and hammocks, I'd LOVE to invest in this set. However, that's just not the way my mischief rolls. Maybe yours will be on their best behavior!
What Is YOUR Opinion On This Midwest Rat Mansion? Do You Have Any Questions?
If you are thinking about getting this cage and need some help answering questions, I could probably give you the answers you need! If you are having issues with your cage (or if you have some of your own advice) feel free to let me know. I will try to help in any way I can.